Team Sutton takes the lead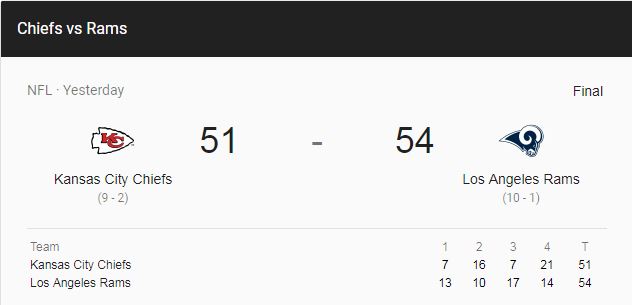 Monday Night's Game will go down as one of the greatest regular-season games in history. The teams combined for 1,001 yards and 105 points as the Rams beat the Chiefs 54-51. Chiefs quarterback Patrick Mahomes threw for six touchdowns, the most passing touchdowns the Rams ever have allowed in a single game. But he also had five turnovers — two fumbles and three interceptions. Goff went 31-of-49 for 413 yards and four touchdowns. 
What a great game to witness. Hopefully this year's Superbowl can be as much fun to watch. 
Team Sutton gets a big win this week against the Knox Killers putting T.S. into 1st place at 8 wins and 3 losses. Right behind him is a 4-way tie for 2nd place at 7 wins and 4 losses. H.Y.P.E. Fantasy football is really fun even when your only sitting on 4 wins for the season. 
Week 11 results:
88.1

Yarrrrrlett Fantasy Pirates

 

(YARR)

90.8
| | |
| --- | --- |
| | 110.3 |
| | 86.9 |
| | |
| --- | --- |
| | 116.9 |
| | 110.7 |
| | |
| --- | --- |
| | 121.1 |
| | 60.8 |
| | |
| --- | --- |
| | 89.4 |
| | 77.6 |
| | |
| --- | --- |
| | 112.1 |
| | 85.3 |
share this article